Loading ....
Liz Lemon would be the first to curl up on her couch on a Friday evening and watch a telethon. So it makes sense that Tina Fey is one of the big names lined up for a show that's set to broadcast live on Facebook tonight.
"It promises to be a historic event marking the first time in history people have something productive to do on Facebook on a Friday night," the telethon's Facebook event description jokes. "Please tune in between stalking your ex and realizing that guy from high school who wore shorts in the winter is now a professional body-builder."
Interactive

The Final Four of Love: Vote for Your Favorite TV Couple
"Stand for Rights" airs at 7 p.m. ET from New York, where some of America's best and brightest are convening to benefit the American Civil Liberties Union. Tom Hanks, Jon Hamm, Zosia Mamet and Tituss Burgess are among the award-winning actors and comedians hanging out for a night of fun and a cause.
"All the proceeds raised will go to what we do best: protecting the civil rights and liberties that truly make America great," the ACLU wrote in a statement.
'Late Night': Kristen Schaal 'Blinded' Herself for Beauty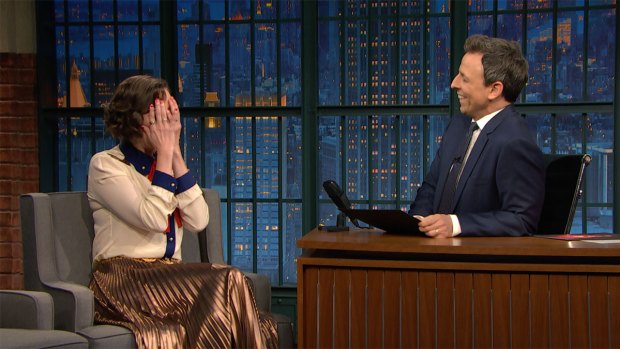 Seth Meyers sits down with Kristen Schaal, who talks about that one time January Jones gave her a face mask to try. Schaal says the beauty regimen ended up "blinding" her for about 30 minutes.
(Published Friday, March 31, 2017)
Cast reunions tend to trend, and for "30 Rock," that's practically what this is. On top of Fey, Alec Baldwin, Tracy Morgan, and Jane Krakowski are all coming together to support the ACLU. Fey's bestie and "Parks and Recreation" star Amy Poehler will also be performing.
Other TV favorites like Uzo Aduba and Josh Charles have planned appearances, and musical guests Usher, the Roots, Ryan Adams, Norah Jones, and Jack Antonoff are all scheduled to play.
'Game of Thrones' Reveals Season 7 Teaser Trailer
The Facebook event page calls the cast "A-listers because, after this benefit, the White House will no doubt add them to some kind of a list."
"There's all kinds of huge stars there — Tom Hanks, Tina Fey, Tracy Morgan, Jon Hamm, Alec Baldwin, me — there's a bit of a dip there," Ike Barinholtz, from "The Mindy Project," said in a Facebook video.
Go Inside the 'Breaking Bad' Fast Food Store Pop-Up
Viewers can tune into the livestream on the Huffington Post, Funny or Die, and Stand for Rights 2017 Facebook pages. After the event, clips will be posted on Huffington Post.
Published 25 minutes ago | Updated 22 minutes ago
source: Nbcnewyork.com
Loading ....
Latest posts by Juan Carlin (see all)