Loading ....
What to Know
April has captivated tens of millions of people across the world who have been checking in on her via the live stream

Giraffe pregnancies last up to 15 months; labor lasts anywhere from a few hours to a few days

The calf will be the first born at Animal Adventure Park, and the zoo says it will hold a contest to name it once it arrives
After more than a month of waiting for what may be the most globally anticipated giraffe birth in history, April's tens of millions of fans may be able to turn their attention to a calf-naming contest within 24 hours.
Animal Adventure Park, the upstate New York zoo live-streaming the giraffe's world famous pregnancy, said in its Friday morning Facebook update that "all observations, behavior and predictions suggest a calf today or tonight."
Love Story Behind World's Most Famous Giraffe Pregnancy
"We would be shocked to get through the weekend without our newest addition," the zoo wrote. "The staff have been onsite with April all morning, Dr Tim was called and onsite within minutes. This is what we have all been waiting for!"
Late Thursday, the zoo had said it hoped to launch a text alert system to notify people when April went into active labor, though it wasn't clear if it would be up and running in time, assuming April isn't fooling us all again.
Waiting for April: 10 Fun Facts About Giraffe Pregnancies
Watch the live stream below.
At around 5:30 a.m. Friday, roughly 90,000 curious onlookers saw zoo keepers enter April's pen sweeping up extra dirt and and cleaning up in what appeared to be a preparation stage. Four hours later, nearly 200,000 watched as April calmly flicked her tongue while her beau Oliver stood in the background.
April's veterinarian joked late Wednesday he had launched a new operation to expedite her labor. Maybe it actually worked.
Adorable Zoo Babies: German Shepherd Nurses Tiger Cubs
When April goes into active labor, the baby's front hoofs will be the first to come out, followed by the snout, the zoo says.
Mom will naturally raise the calf on her own, and weaning could take between six to 10 months, maybe even longer — the zoo says it won't rush the process. Once weaning is over, the baby giraffe will move on to another facility to start a breeding program there.
Woman in Viral April Video Gives Birth, Wears Giraffe Mask
"We cannot retain offspring, as it would lead to incestuous mating and undermine the genetics of the program and species," the zoo says.
Behind the Scenes With April the Giraffe as Birth Looms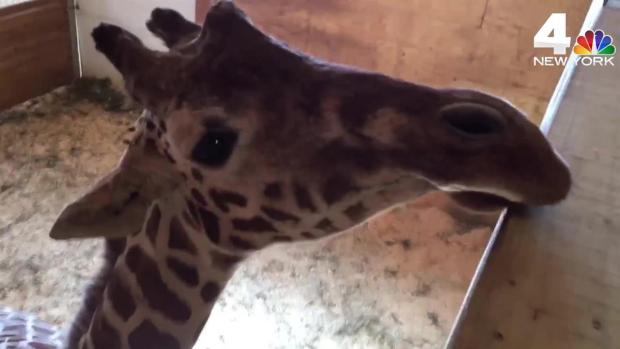 We visited April the giraffe at Animal Adventure Park to see how she and her keepers were getting on ahead of the birth of her new calf.
(Published Tuesday, March 7, 2017)
This is 15-year-old April's fourth calf. It'll be the first for her mate Oliver. He won't take any part in rearing the calf, though. Male giraffes, called bulls, really only care about two things, the zoo says: "fighting and the unmentionable."
"He is a bull — and a bull is a bull is a bull!" the zoo says.
Pregnant Woman's April the Giraffe Impression Goes Viral
April's pregnancy was catapulted into global headlines late last month after YouTube briefly yanked the zoo's stream following complaints by animal activists that it violated the site's policies concerning "nudity and sexual content." Thousands upon thousands of commenters voiced their frustration on Facebook and YouTube, and the stream was restored within an hour or so.
Recently Born Zoo Animals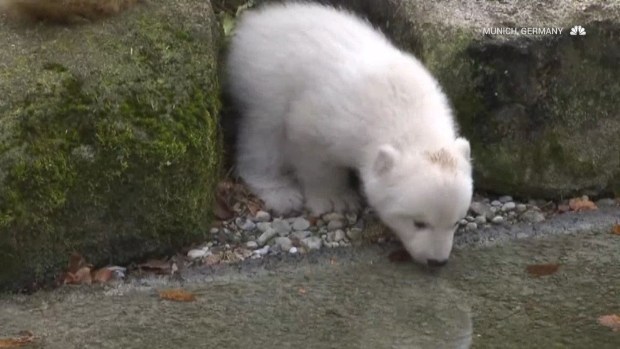 Everyone is waiting for April the giraffe to give birth. While you wait, take a look at some of the other recently born zoo animals from around the world.
(Published Friday, March 3, 2017)
Jordan Patch, owner of the Animal Adventure Park, says the natural curiosity surrounding giraffes and their birthing process has been a huge factor in drawing crowds.
"I think the fact that she's a giraffe and she's a neat species that people are interested in, that's fostered a lot of the attention," he said. "The fact that you're gonna get to witness the miracle of birth from an animal that you really don't get to see give birth — that's neat."
Watch Live

April the Giraffe Has 'Active Night,' Not Pleased With Vet
He added that April's pregnancy is not just live entertainment, but a teachable moment and source for education. This is the zoo's first giraffe calf.
NJ Sees 3 Baby Giraffes Born as April's Pregnancy Continues
Giraffe pregnancies last up to 15 months. Labor lasts anywhere from a few hours to a few days. The calf, which will be the first born at Animal Adventure Park, will be about 150 pounds and 6 feet tall at birth and up and walking in about an hour.
The zoo said it will hold an online competition to name the baby giraffe once it's born.
Unbelievable Animals: Painting Pig's Art Sells for Up $2,000
Published 4 hours ago | Updated 3 hours ago
Get the latest from NBC 4 New York anywhere, anytime
Download the App

Available for IOS and Android

Follow NBC New York
source: Nbcnewyork.com
Loading ....
Latest posts by Juan Carlin (see all)